Riding Park `News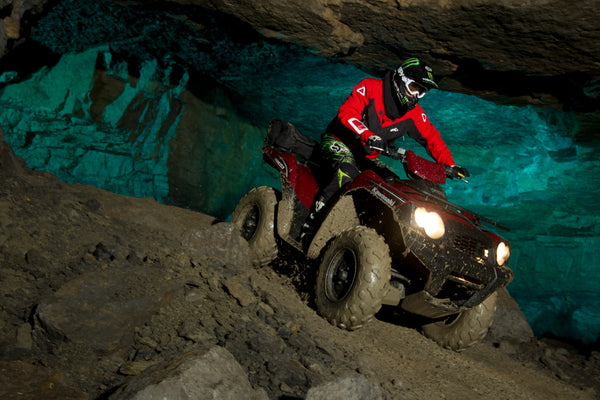 Mines & Meadows invites you to come explore underground riding through ou...
Read more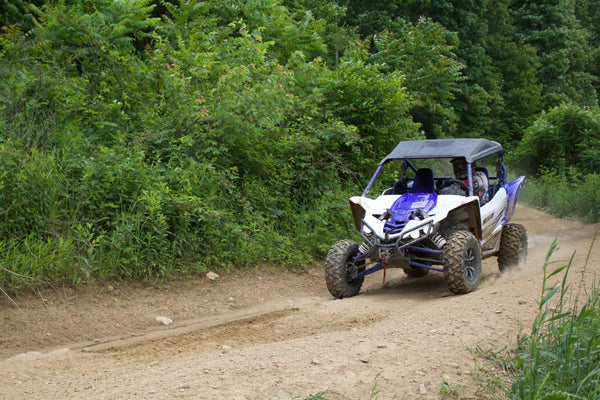 Pennsylvania is now filled with great riding destinations. Below are some of ...
Read more

The Svihra Family
Trailhead Powersport's Owners
2nd and soon to be 3rd generation owners have riding in their blood. We built Trailhead to serve our great customers the best of the best! The ecommerce side was built to expand our great service to the entire US. Welcome to our store.
Features
Construction uses a highly breathable, perforated microfiber with internal perforated padding.
Highly ventilated perforated padding for optimized ventilation and airflow.
TPU features is combined with ventilation zones and a new air flow system sole for breathability and superior ventilation.
Two large inlet ports on front of boot with exhausts at back for optimized levels of airflow and heat exchange.
3D Higher Spring insole creates an effective cooling system using air channels within the sole for optimal levels of ventilation, while also creating a cushioning effect for enhanced levels of comfort.
Evolutionary new shin plate design with ventilation windows strategically positioned to allow more ventilation and a light weight without compromising the impact protection.
Air vents on the PU lateral calf plus breathable mesh insert improve comfort and reduce fatigue on short and long rides.
New performance double pivot motion control system features: a medial and lateral double pivot system for improved levels of flexibility and precision control, engineered bi-density front flexion control is strategically positioned over the mesh area, combined with a dual front blade system and shock absorber insert to offer mechanical progressive force release to dampen and absorb impact energies and a re-designed dual density TPU rear blade system is engineered to prevent hyper-extension while offering improved flex control and impact resistance.
Co-injected for strength and structure, the exclusive TPU compound panels provide superb levels of grip contact and durability.
Completely re-designed sole with proprietary grip sculpturing to improve foot-peg performance, grip and mud and water run-off. Exclusive dual compound sole is seamlessly integrated to the multi-density foot base structure with built-in support. The sole offers superior durability, grip and feel while riding, and improved performance on the shifter.
The central sole insert features a micro grip and side hooking grip design. It is easily replaceable and Alpinestars offers a full sole replacement and boot repair service.
Perforated footbed for additional cooling.
Inner boot has a mesh construction for optimal levels of airflow and light weight, with a technical perforated bottom for additional cooling.
Anatomically optimized for weight-saving and ergonomics, the new mechanical buckle closure system features a nylon and fiberglass compound for improved durability and strength. The new slim-line buckle closure system includes high-impact bridge closures which are cold forged for precision and strength. The buckle closure system features a memory and a quick release/locking system with self-aligning design for easy, precise closure and improved riding performance and security. All buckles are easily replaceable.
Innovative, lightweight upper combines advanced lightweight microfiber with an impact and abrasion resistant TPU shell.
The shin incorporates a unique TPU blade system engineered to prevent frontal hyper-extension and offer greater flex control.
Soft microfiber gaiter helps seal out excessive water and dirt entry, while the 3D mesh lining ensures improved air circulation and comfort.
3D mesh lining incorporates anti-sliding suede on heel area to keep the foot located inside the boot.
Frontal protection features a dual closure system with an internal microfiber flap, plus hook and loop fasteners for a precise fit closure attached securely with a micro-adjustable, easy to operate, lightweight buckle.
The foot shell features five different compounds in a single lightweight piece to offer strength while maintaining flexibility and structural integrity. The foot shell incorporates heel and toe protection and is highly resistant against abrasion and impact while adding to the boot's overall durability. The foot shell also includes an integrated shank for support and structural integrity.
Built into the Tech 10's unique and lightweight single-piece co-injected foot chassis is the patented Dynamic Heel Compression Protector (DHCP), an innovative safety feature which includes a fully integrated collapsible heel area with expanded polyfoam to absorb high impact energies during a crash. DCHP features a directional impact protection system which significantly reduces the effect of excessive, potentially injury-causing energy being transferred to the ankle and lower leg. DHCP has been developed and tested in the demanding circuits of professional Supercross and Motocross.
The contoured calf protector ergonomically wraps around the rear leg and is constructed from a dual density compound rear blade system to offer progressive dampening of excessive torsional forces.
Specs
| | |
| --- | --- |
| PRODUCT NAME | BOOTS |
| MODEL | TECH 10 |
| COLOR/FINISH | WHITE / BLACK / WHITE |
| US SIZE | 11 |
| EU SIZE | 45,5 |
| FIT | OVER-CALF |
| SIZE GROUP | ADULT |
| UNITS | PAIR |
| RIDING STYLE | OFF-ROAD |
| BASE COLOR | WHITE |
TrailheadPowersports.com and BRAAPit.com now offer free delivery on thousands of items online for most orders over $79. This great value for our online shoppers means it's easier than ever to start modifying your machine, repairing those worn parts you've wanted to get to, upgrade your gear, or even do some gift shopping.
You get 2-day delivery on thousands of in-demand items. Look for the expected arrival date in your Shopping Cart under Product Information. Plan ahead with confidence knowing your delivery will arrive on schedule.
Other shipping methods are available at checkout if you want your purchase delivered faster. Just check our Shipping and Delivery FAQs for a look at your options.

FREE standard shipping and residential delivery on most orders over $79 made at TrailheadPowersports.com and BRAAPit.com. Some exclusions apply. See product detail for free shipping eligibility. See product descriptions for free shipping eligibility. This offer is not valid on gift cards or prior purchases or certain items containing weight and/or size shipping restrictions (details in item descriptions). This offer is valid on parcel and residential delivery only; it does not include express or expedited shipping. We reserve the right to change or end this offer at any time. Select items can ship to Alaska & Hawaii. We cannot ship to APO/FPO, P.O. Boxes, or U.S. Territories. Please allow 3-5 business days for parcel ground delivery and 5-10 business days for home delivery in addition to order processing time which varies by product. All returns are subject to Trailhead Powersports standard return policy. Void where prohibited.
Shipping Options
Economy Standard Ground
Standard Shipping is the default shipping method for most items and includes delivery by a small parcel carrier.

Priority Ground
Priority Ground Shipping includes 1-3 day delivery by a small parcel carrier. Priority Ground shipments are prioritized to pack and ship earlier than Standard Ground shipments.

Expedited
Expedited Shipping includes second day delivery by a small parcel carrier, once the items ship. Processing time is additional and will vary by product.

Express
Express Shipping includes next day delivery by a small parcel carrier, once the items ship. Processing time is additional and will vary by product.

Cost Saver
Cost Saver Shipping is a more economical shipping method that includes initial transportation by a small parcel carrier and final delivery by the U.S. Postal Service.

Bulk Delivery
Bulk Delivery is made by a delivery truck. The carrier will contact you to make a delivery appointment. Someone 18 years of age or older must be present to sign for the delivery. Customer-supplied tarps are recommended to protect property.
When will my order arrive?
Estimated delivery dates are provided for each item in the product information page. To check the status of your order online, please visit the Trailhead Powersports order status page. Enter your order confirmation number and email address in the space provided. You can also track your item by clicking on the tracking number in the Shipping Confirmation e-mail that is sent once your item ships.
Can I change or cancel my order?
Buy Online Ship to Home Cancellation

This process varies according to your order type and which stage the order is in. 
  
To cancel a Delivery/Ship-to-Home order, visit My Account to see your order details and click on the Cancel Items button to cancel the order online. You may cancel the entire order within 45 minutes of placing the order. Individual items and orders completely or partially paid for with a gift card cannot be canceled online and require contacting Online Customer Support via LiveChat or by calling 1-844-41-BRAAP. Online Customer Support can assist with canceling entire orders, individual items within an order and orders paid for with gift cards only if contacted within 45 minutes from having placed the order. Once the 45-minute window has passed, the order cannot be canceled. 
  
Online Customer Support can be reached by LiveChat 24 hours a day, 7 days per week, or at 1-844-41BRAAP Monday - Sunday, 9a.m. – 5p.m. ET. Please have your order confirmation number and your original payment information available when calling to cancel your order. 

If it is too late to cancel your order, you may return any unwanted items in accordance with our returns policy. 


Buy Online Pick Up in Store Cancellation
To cancel a Buy Online, Pick Up in Store order, visit My Account or Track Order to see your order details and click on the Cancel Order button to cancel the order online. Entire orders may be canceled only if they meet the following criteria: 1. The order was not paid for completely or partially with a gift card, 2. All items in the order are being picked up at the same store, 3. The order may not be partially picked up, and 4. All items were purchased as Buy Online, Pick Up in Store items. You may contact Online Customer Support via LiveChat or by calling 1-844-41BRAAP to cancel entire orders at any time including: individual items of an order, items in the order purchased as Buy Online Ship to Store and orders paid for partially or completely with gift cards. 
  
To cancel your order and/or in store pickup, contact Online Customer Support by LiveChat 24 hours a day, 7 days per week, or at 1-844-41-BRAAP Monday - Sunday, 9a.m. – 5p.m. ET. Please have your original payment information available when calling to cancel your order.